At the beginning of 2018, I wrote a post outlining a few of my predictions for the venture world in 2018. Here's a quick review of what they were and how things turned out.
The prediction? Valuations will begin to come back down to earth.
The verdict? I was dead wrong on this one.
As the chart below indicates, US VC deal activity heated up to record levels; in fact, capital invested into tech startups exceeded $100b for the first time since 2000, which was the previous all-time high. And this massive amount of capital went into fewer deals than the previous year, as late-stage investors like Softbank doubled down on winners in growth equity deals.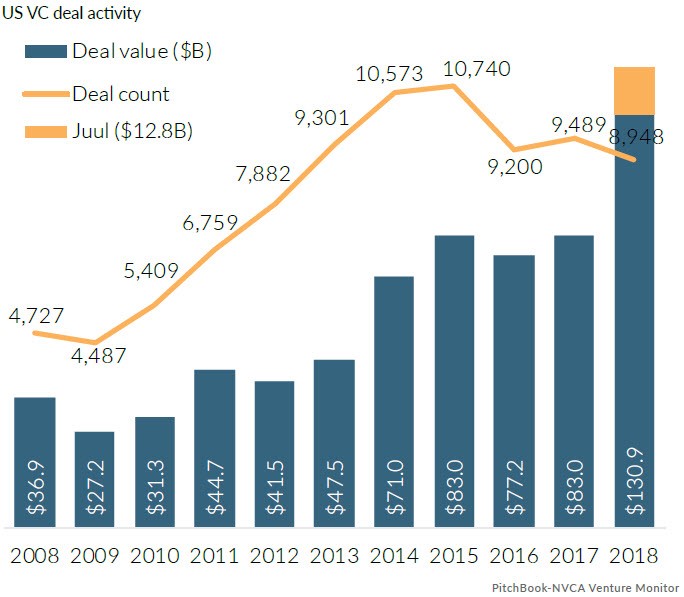 Overall, this translated into rising valuations at every stage, with the most notable spike being in the later-stage deals as the graph below shows. Yet 2018 saw 4 hikes in the federal funds rate and a flat public market which my original thesis predicted would lead to more hesitance in the private markets – so what happened? Since LPs commit money to funds for typically a 10-year period, there's a lag between LP behavior and private market valuations. If these macro trends continue, the valuation correction I've been hoping for will take place in the next couple years. But then again, who knows!

The prediction? The ICO craze will settle down and a few valuable tokens will endure.
The verdict? Nailed this one.
Crypto crashed hard in 2018. In fact, the crash looked eerily similar to the tech bubble's burst in 2000 and by September, the crypto market cap had plunged 80%. The real question that remains is whether a few tokens endure and we start to see long-term value creation around the crypto/blockchain ecosystem as the Gartner hype cycle would predict. My guess is yes.
The prediction? SaaS and AI investment will continue to increase – watch out for voice and automation platform shifts.
The verdict? Partially correct, partially incorrect. AI continues to heat up with AI startup funding in 2018 reaching an all-time-high. As I've discussed before, with the advent of cheap public cloud infrastructure, open source tools/APIs and data at scale, AI is becoming table stakes and a core part of every SaaS business' strategy. The part I got wrong however is that the voice platform shift and corresponding technology would usher in new business opportunities. While smart speaker adoption grew 78% in 2018 and the tech giants made some major NLP breakthroughs like Google's Duplex project, we didn't see any breakout startups being built on top of the voice platforms. Much of the use cases for Alexa and Google home devices remain simplistic. Voice is a low-bandwidth means of communicating with technology, so while it may be a more natural and effective input mechanism, it fails to provide a robust user experience. Hence the introduction of voice assistants with screens, like Facebook's Portal and the Echo Show.
The prediction? The valley will begin to focus more on diversity and inclusion 
The verdict? Absolutely.
2018 saw several major initiatives announced that focus on finding and funding entrepreneurs from underrepresented backgrounds. A16Z announced their Cultural Leadership Fund, which pools capital from a base of black LPs and will be using their proceeds to help black youth get into the technology industry. Base10 ventures raised a debut fund, which is the largest ever for a black-led VC firm. Clearly the industry is moving in the right direction although there is more work to be done for sure. At Bessemer, a couple colleagues and I recently launched our very own diversity and inclusion initiative. Our goals are threefold: 1) To revamp our hiring practices internally to focus on bringing on a more diverse investment team, 2) To help our portfolio companies build more diverse teams and inclusive cultures, and 3) to establish partnerships externally that ensure our team is seeing dealflow from more diverse founding teams. Hopefully you'll be hearing more from us on this front in the coming year.